Description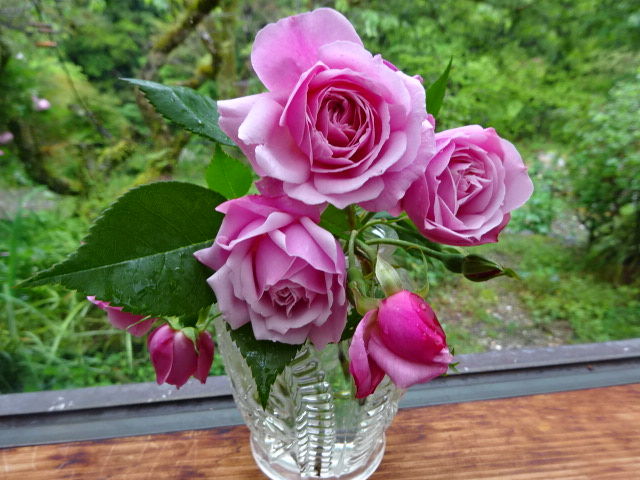 Choshunka, The Ancient Rose, takes its name from the ancient Chinese name for the Chinese rose (Rosa Chinensis, see photo). Handpicked leaves from trees grown from the seeds of wild plants, the tea is withered 15 hours before pan-firing by hand to stop the oxidization giving it a strong floral aroma
The "field" itself is of unknown age and had spread out naturally across a hillside in Momonokiyama area outside Ino Village in Kochi.
Tea garden owner Akika Kunitomo's father operated a landscaping company in Kochi Prefecture and in the 1990s discovered wild tea plants on an isolated mountainside during the course of his work. He began caring for the plants by clearing away the under brush and but allowing the plants to grow naturally as they had been.
Seeking to return to the roots of tea making in the Kochi region, Kunitomo-san built a small processing factory that focuses on pan-firing tea leaves. Akika took over the project when her father passed away, expanding by using seeds from the original wild plants and creating a managed tea field while continuing to adhere to the philosophy of zero use of pesticides and fertilizer.
Ingredients: Oolong tea
Cultivar: Yamacha (zairai, or non-specific cultivar grown from seed)
Harvest: Spring, harvested by hand
Production method: Withered about 15 hours. Hand processed pan firing
Region: Ino Village, Kochi, Japan
Steeping Recommendation
Tea: 3 grams
Water Temperature: 80C/176F degrees
Water Amount: 200 ml
Time: 3-4 minutes
Resteep 3-4 times (total 3-4 cups per 3 grams)
Payment & Security
Your payment information is processed securely. We do not store credit card details nor have access to your credit card information.